Entry-level Desktop Storage for Small Workgroups
EonStor GSe Pro 100 is an entry-level desktop storage series with basic enterprise features to support commercial operations in limited office space. As the most expandable among its class, it can increase capacity with up to 40 drives. Rich connectivity options include USB 3.0, 1GbE, 10GbE, and 12Gb/s SAS.
EonStor GSe Pro is a single controller solution with support for SATA and SSD drives exclusively designed for SMBs, integrating SAN and NAS services as well as Cloud Gateway features to be deployed under a general NAS architecture for file sharing, backup, cloud synchronization, video editing, and surveillance purposes. Its complete product line features a hardware design of rackmount or desktop enclosures and flexible host boards to choose from; as for software, it comes with complete data services and simple, intuitive management interfaces, so that you can find the perfect storage device according to your performance or budget needs.
True Unified Storage Solutions
GSe Pro family is a true unified storage that support block-level and file-level application access and integrates NAS/SAN/Cloud storage in one system. Excellent performance comes from unique block device design and native iSCSI interface on the firmware level. GSe Pro family offers connection to major cloud service providers such as Microsoft Azure, Amazon S3, OpenStack Swift, Google Cloud, Wasabi Cloud, Alibaba Cloud, Baidu Cloud, and Tencent Cloud for future-proof cloud expansion.
Superior SAN Architecture
The GSe Pro family comes with an Infortrend-proprietary RAID architecture and various reliable data services designed for the SAN system, speeding up block-level data access and storage.
Drive Storage Efficiency: Get the Most from Your Budget
Budgeting is always a top challenge for enterprises, especially for small and midsize companies. The EonStor GSe Pro series is designed to meet the challenge by offering the most common data services with maximized storage efficiency, thus reducing the overall storage cost:
Inline compression and offline deduplication to reduce overall capacity needs. These technologies, supported on the Btrfs filesystem, compress raw files in real-time and remove repeating data by schedule to minimize the storage capacity required, thus saving storage costs.
Automatic storage tiering (Auto-tiering) to leverage advantages of SSD and HDD. You will get a more cost-effective storage system as you enjoy both the high performance of SSD and the large capacity of HDD.
SSD cache to accelerate file access performance. By configuring a small part of SSD space on the GSe Pro as a cache, file operations—such as file listing, file renaming, and file creation—will become much smoother; meanwhile, the read/write performance will be enhanced for frequently accessed files.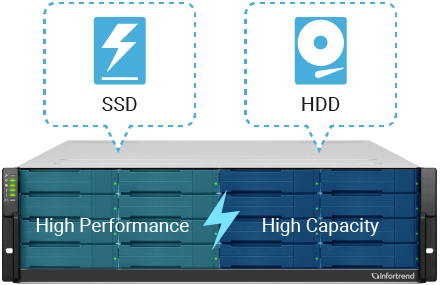 EonOne—Manage Your Data Intuitively
With the constant evolution of storage platforms, the GSe Pro adopted the all new EonOne management software to assist customers improve storage and service efficiency to increase productivity. Its intuitive interface design allows for centralized management of multiple systems, monitoring of performance and capacity usage, and completion of all related system configurations.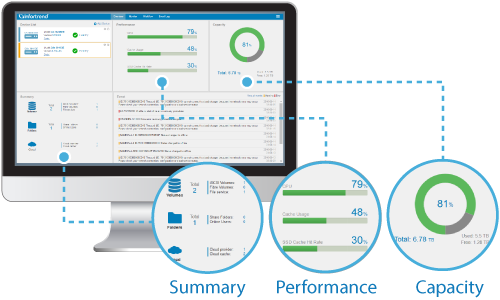 App Store on Docker
A Software Platform Allows User to Run and Manage Applications
The App Store features templates for various Docker container images—artificial intelligence (AI), Internet of things (IoT), video surveillance, and much more. A template specifies a Docker container image along with preset parameters of the execution environment. By using a template, you can quickly deploy and run a Docker container with little fuss.
Rackmount Highlights
Hybrid Storage Arrays
From data growth, management of numerous hardware devices, to annual budget cuts, IT personnel need to face ever-changing challenges every day. The EonStor GSe Pro can be set up as a hybrid flash storage according to their needs, and combined with either SSD Cache or Automated Storage Tiering, it can utilize the high performance of SSDs and the large capacity of HDDs, while automatically moving frequently accessed data to SSDs to achieve simplified management and proper use of resources.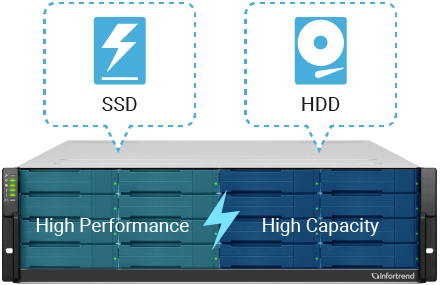 Massive Capacity in One Storage System
The GSe Pro rackmount series can allocate system capacity to meet real-time system needs, and reach PB-level capacity for local storage when combined with high density expansion enclosures, providing massive capacity with just one storage system.
Easy Maintenance with Modular & Cableless Design
To ensure easy maintenance, the GSe Pro rackmount series adopts the modular and cableless design for its power supplies, system fans, controllers, and host boards. You can easily upgrade the system memory or swap the drives with our drawer design, and if any module fails, you can replace it right on the spot.
Abundant Software Applications
The GSe Pro rackmount series comes with abundant software applications—volume snapshot, storage tiering, thin provisioning, and much more, a compact enterprise solution for data storage, access, and backup.
Desktop Highlights
Cross-office File Sharing and Collaboration
The GSe Pro desktop system can sync your business data with the cloud in real time, offering a perfect solution for cross-office file sharing and collaboration between the headquarters and branch offices. By leveraging the cloud as a centralized database, you can keep important data up-to-date and accessible for all in your business.
Highly Expandable Storage
To meet the ever-growing needs on data storage, the GSe Pro desktop series supports up to 40 drives and more than 500TB capacity with four expansion enclosures, ideal for storage—intensive applications such as video surveillance, data archiving, and much more.
Versatile Host Interfaces
The GSe Pro desktop series comes with multiple host interfaces— 1Gb/s iSCSI and 10Gb/s iSCSI, ensuring seamless compatibility with your IT infrastructure and applications.
24/7 Non-stop Video Surveillance
Real-time videos provide an intuitive interface and smart multi-stream technology to let you effectively monitor and control multiple IP cameras. You can monitor anytime, anywhere with just a web browser or desktop client software. Furthermore, it is compatible with platforms such as Windows©.
Application
Hybrid Backup Solution
The GSe Pro family provides your business with a hybrid backup solution for your local, remote, and cloud data, offering comprehensive data protection and convenient disaster recovery for your best interests.
Advantages
Infortrend's self-developed cloud gateway engine integrates GSe Pro family with public cloud and private cloud. Businesses can enjoy three cloud features that extend local storage with cloud capacity or make use of off-site backup and disaster recovery.
Automatic cloud backup for simplified data management and maintenance.
Integration with leading cloud service providers for more diverse storage choices.